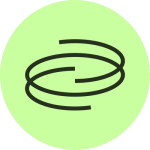 Polimec is a decentralized community-driven funding protocol developed on Polkadot to accelerate the Web3 ecosystem. The open-source and module-based blockchain system facilitates fundraising in a regulatory compliant and sustainable manner using on-chain credentials.
Polimec provides an automated framework for projects to raise funds within a broad and diverse community with transparent and fair access for all. The protocol provides access to fundraising and governs the issuance, distribution, and conversion of tokens to mainnet.
Polimec maximizes value creation for Web3 projects, allows different stakeholders to participate in funding rounds, and minimizes information asymmetry between participants and issuers to grow their community. The underlying reward mechanism ensures that the interests of the various participants and projects are aligned for sustainable fundraising.
Using on-chain credentials from KILT enables user verification for KYC/AML (know your customer, anti-money laundering) and other regulatory purposes while staying pseudonymous. This allows network participants to comply with relevant regulations in a decentralized and efficient process - while preserving data privacy.
Furthermore, the native PLMC token enables access to participate in fundraises and a variety of additional functionalities such as staking, gamified social credit building, and more.
Links:
Status

Parathread
Auction
October 24, 2023
August 28, 2025
~628 days remained
If you have a connection to this project, kindly Contact Us to keep the details current