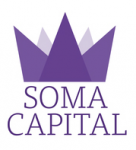 Soma Capital
About
Soma Capital is a fund that was built by entrepreneurs, for entrepreneurs. Run by Aneel Ranadive with a world class advisory team of entrepreneurs including Vivek Ranadive, George Bousis, Trip Adler, and Mark Goldstein. Aneel is a serial entrepreneur having built social media apps for the last 10 years.
Vivek is the founder of multi billion dollar enterprise software company Tibco (big data, analytics, event processing, etc.) and owner of the Sacramento Kings. Tibco does over $1bn in revenue and powers 80% of Fortune 500 companies which gives Soma CEO-level relationships with many of the biggest brands in the world. Vivek has also seeded / helped build tech goliaths like Google, Ebay, Yahoo and Salesforce.
George Bousis is the founder of billion dollar giftcard app Raise, the fastest growing e-commerce company ever.
Trip Adler is the Scribd founder, which is like "Netflix for books" and serves 100m uniques a month.
Mark Goldstein is a serial entrepreneur and also runs Marc Benioff's fund.