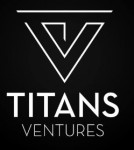 Titans Ventures
About
Titans Ventures, Vietnam's top Incubator. Founded in Q4, 2020, Titans Ventures has quickly become an influential investment fund in the Vietnamese market, where Binance itself has recognized as having attracted the top number of users and the third-largest trading volume in Asia. The community operates on the principle of taking the common benefits, the long-term strategic vision as the leading guideline.
The Titans Ventures team, formerly having worked in the Blockchain industry for over 5 years, with the target of bringing the real value to all community members as well as bringing/introducing new and qualified products/projects to the local market which will help expand, remain and develop the Vietnamese blockchain - crypto market.
During the past few months, Titans Ventures has been developing significantly by running on the right road of giving trading advice, introducing high-qualified products and supporting promotional activities. At the same time, Titans Ventures has been celebrating several conferences, meetup with exchanges, projects and blockchain companies to give members the opportunities to make the right investment decisions. Hence, they always remain loyal and passionate about joining Titans Ventures's plans as well as supporting Titans Ventures's partners enthusiastically.